Definition of: Congo
(kong′gō) noun
A member of any of numerous Negro and Negroid tribes, mostly of Bantu linguistic stock, inhabiting equatorial and southern Africa. Also Con·go·lese (kong′gō·lēz′, -lēs′).
Definition of: Congo
(kong′gō)
One of the world's largest rivers, rising in SE Zaire Republic and flowing 2,900 miles to the South Atlantic.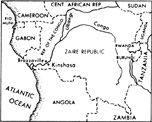 Most often used phrases:
congo river
congo war
congo democratic republic of the congo
congo ivory coast
second congo
congo basin
congo drc
congo equatorial
congo kenya
congo crisis
au congo
congo tanzania
eastern congo
congo brazzaville
congo rwanda

'congo' used in million biggest domains list by Alexa.com:
congoma.org
mediacongo.net
congoo.com
digitalcongo.net
congomikili.com
congo-site.com

'congo' used in other domains:
congocourier.com
elcongomanuel.com
congohotel-rhodes.com
radiotv-congo.com
congopolitique.com
sgsp-congo.com

Statistical data
"congo" has the frequency of use of 0.0013% on en.wikipedia.org.