Phrases starting with the letter: A B C D E F G H I J K L M N O P Q R S T U V W X Y Z
Definition of: Hammurabi
(hä′m
·rä′bē, ham′ə-)
Founder of the first Babylonian dynasty at the beginning of the second millenium B.C.; famous lawgiver who promulgated the Code of Hammurabi.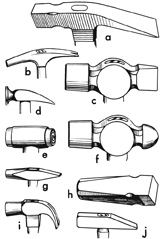 HAMMERS
a. Bricklayer's hammer.
b. Upholsterer's or tack hammer.
c. Machinist's straight–peen.
d. Shoemaker's hammer.
e. Rawhide–faced hammer.
f. Machinist's ball–peen.
g. Riveting hammer.
h. Blacksmith's set–hammer.
i. Claw hammer.
j. Tinner's hammer.